Brandt Group
We are a leading French group in the area of household equipment: Washing, Cooking, Cooling, Small Appliances, Television and Air Conditioning.
4 major brands
We design and manufacture products for four iconic brands which are present in millions of households around the world.
De Dietrich and Brandt are our two major international brands; Sauter and Vedette are our two specialist brands.
7 locations in France and in Algeria
We own two production sites in France (Orléans and Vendôme), an industrial park in Algeria (Sétif), two R&D sites (Sétif in Algéria and Orléans in France), a site dedicated to after-sales services (Cergy-Pontoise) and a corporate headquarter at Rueil-Malmaison.
Video of top washing machine production site in Setif (Algeria) :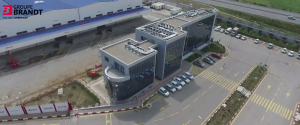 6 subsidiaries in Europe, in Asia and in North Africa
See our subsidiaries and locations
Distribution of our brands is provided worldwide by a network of distributors.
"Origine France Garantie"
In 2011, we became the first manufacturer of home appliances to receive the French Origin Guaranteed label for our products manufactured at our Orléans and Vendôme sites.