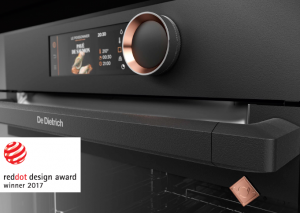 Four FASCINATION

Fascination. The new oven from La Maison De Dietrich has just won the prestigious Red Dot Design Award.

The Fascination collection eloquently symbolises the high standards of French excellence upheld by Maison De Dietrich. Imagined and conceived by engineers and designers at manufacturing plants in Orléans and Vendôme, this new collection is the culmination of Maison De Dietrich's expert know-how, cutting-edge technology and sophisticated and expressive use of fine materials such as iron, copper and cast iron.

Technologically, this oven includes an exciting range of features – its 'Chef' mode is an automatic cooking function that offers exceptional accuracy. What's more, it has a built-in cooking guide, low temperature mode, drying function for dehydrating foods and a patisserie menu for home cooks who wish to try their hand at French pastry classics. The Red Dot Design Award commended the oven's integrated technology and superior materials, perfectly reflecting French hospitality and the expertise and constant quest for quality for which Maison De Dietrich is known.


---



About De Dietrich


Very few French manufacturers can boast a history spanning over three hundred years like Maison De Dietrich. Since its inception in 1684, the company has released a constant stream of exclusive designs, innovations and technologies such as the first home cooker, the pyrolytic oven, the superheated steam oven, induction hobs and the first ever zoneless induction hob.

De Dietrich has nurtured its sense of innovation, pioneering spirit and French hospitality at all its various manufacturing plants around France.

Proud of its heritage and expertise developed over hundreds of years, De Dietrich design is both a promise of aesthetic appeal and a constant search for perfection – to see a De Dietrich product is to want one.


---



About Red Dot Design Award


Founded in 1955, Red Dot Design Award is one of the prestigious internationally recognised quality labels in the design world. The award singles out products but also communication campaigns, packaging, prototypes and concepts. Divided into 47 categories, the very best designs are judged by an international jury made up of 39 experts, architects, designers and other personalities.